If you can't already tell, Sundays tend to be my indulgent days (but let's be real: I love a little sweet treat almost any day. This past Sunday, another Sunday in quarantine life, I set out to try a new baking recipe.
Homemade cinnamon rolls with Greek yogurt instead of the traditional yeast (and subsequent dough rising) were on my Sunday morning agenda, along with testing out my new Spotify playlist I've been working on for stay at home life.
(Let's be real, 75% of my life is a current work in progress, playlists, hair, cuticles, this website . . . you get the drift)
Back to the cinnamon rolls. Cinnamon rolls just feel nostalgic. The gooey middles, the smell, it just feels like the perfect lazy Sunday morning. Now if I could ship my espresso machine to North Carolina, that would be perfect 🙂
Ingredients:
Dough:
2 cups flour
1/4 cup brown sugar
1 1/2 teaspoons baking powder
1/2 teaspoon baking soda
small pinch of salt
1 cup of Fage yogurt
1/3 cup melted salted butter
Filling:
1/4 cup softened salted butter
1/4 cup brown sugar
2 teaspoons cinnamon
Frosting:
1/2 cup Fage yogurt
1/4 cup powdered sugar
Preheat your oven to 350 and grease your baking pan. Normally, I would use a pretty square baking dish, but in NC all I had was a rectangular casserole dish, just make sure it's deep enough for your rolls! Melt your butter for the filling & combine with the brown sugar and cinnamon, set aside.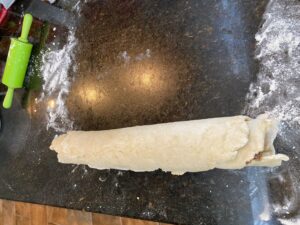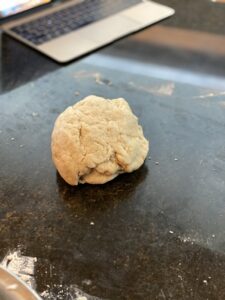 Combine all of your dry ingredients in a large bowl. Melt the butter and let it cool for 2-3 minutes. Once cooled, add the butter and yogurt to the dry ingredients and combine. I used a rubber spatula and then eventually just my hands. Once combined, flour your countertop and start to knead the dough together. I find kneading any type of bread/dough/etc to be extremely therapeutic so make sure your playlist is keyed up to your favorite song and go to town.
Once you've kneaded the dough, roll it out into a rectangle (mine was not perfect but I literally used a play rolling pin that I'm not sure where it came from). Try to not over roll the dough to prevent cracking. Next, using the back of a spoon or a pastry brush (wish I had one here), apply the dough filling. After you've spread the filling across the dough, being mindful to not hit every edge, start at the bottom and roll your dough into a log.
Take a sharp knife and cut the dough log into your cinnamon rolls, about 1 1/2-2 inches thick. Place the rolls in the baking dish and bake in the oven for 20-25 minutes (mine took 25 minutes, but I checked them at 20)
While the rolls are baking, stir the icing ingredients together in a bowl and set aside. Now, time for some bonus work.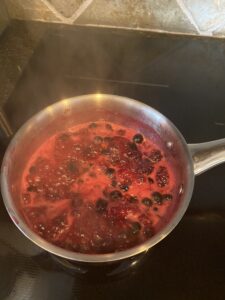 I had a bunch of fresh berries in the fridge and decided to level up the cinnamon rolls. In a small saucepan, combine raspberries, blackberries, blueberries and about 1/4 cup of sugar. Turn the heat on medium-high and let those berries and sugar develop into a sweet, thick super easy compote/sauce. This took about 10 minutes on our range. Once it's a rolling boil, continue to stir and turn the heat to low.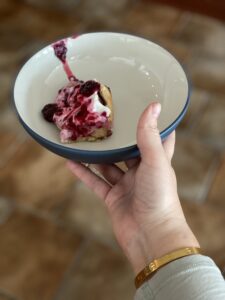 Let the cinnamon rolls cool for about 5-7 minutes, then add your icing. If you made the berries, drizzle them over the frosting. Grab a fresh cup of coffee, maybe a Sunday morning show off the DVR (we finally caught up on Vanderpump Rules, try not to judge me) and enjoy!